Dexter cows are known for easy calving and make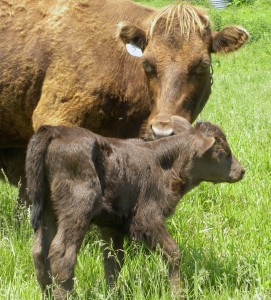 excellent mothers.
The 2017 calves started arriving  the 23rd of May and all but one was here by June 23rd.
Pictures below are snapshots of the new babies.  Sometimes they are hiding, sometimes playing with friends, and sometimes hanging out with the adults. Always you see a shiny, healthy, robust group of calves.
Typically, we pull tail hairs to DNA test in July.  Then we make sale decisions once we have those results.  This provides the most complete information for a buyer.  Calves usually stay with their moms until mid October, but can be reserved earlier.  All our adults are PHA and Chondro free,  so all calves are too (obligates).  Likewise, when registered, all calves are both sire and dam qualified.
Enjoy the bright little faces.