Shome River 58                                                                 DOB 4-14-2004  
PDCA # 200327
River was our first sire. A dun, polled bull, he had both great confirmation and a gentle, calm disposition.  He gave these great traits to his offspring, 79% of which were girls.
Additional sires have been:
Mack of Myers Farm                                                       DOB 2-28-2005    

PDCA # 202463
A dark dun, horned bull.  Purchased at 5 months, he was the first calf we raised.  Mack had great length and depth.
NVF Titan                                                                      DOB 10-5-2008     
PDCA # 022077A        ADCA # 22077
A polled, dun colored bull.  He was a non-carrier of chondrodysplasia and PHA, with excellent feet.
Plum Creek's Bo                                               DOB 9-24-2010       
PDCA # 206479               ADCA # 030519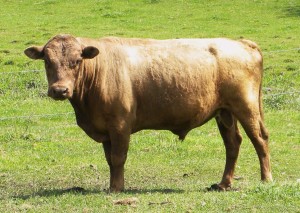 A dun, polled bull born on the farm.  He was a smaller framed Dexter but very well proportioned.   A non-carrier of PHA or chondrodysplasia,  Bo had his father's exceptionally calm disposition.
Plum Creek's Sarg                                              DOB 6-1-2011
PDCA # 206968     ADCA  # 030523 
A dun, polled bull used in 2013 and 2014.  He too was raised on our farm.  His calves had his good feet and confirmation, his size and dark dun color.
Mentjes Prophet-a                                                  DOB 3-8-2014
ADCA # 35329
Used in 2015 and 2016, Prophet-a bull was a dun, heterozygous polled bull that carried red.  He was 43″ at the hip at 17 mos. old and PHA and chondro free.
Pictures of his calves are available on the "new arrivals" and "calves for sale" pages.
Future Sire:
SGF SSHA CASEY

                                                            DOB 3/25/2016
ADCA #039120
Casey is our newest fellow.  A dun bull (ED/e, b/b) that carries red.  He is homozygous polled.  He's  A1/A2 for beta casein, and both PHA and chondro free.
Casey started working in August of 2017.  He is calm, friendly, and goes quietly about his work.  These pictures are at 17 months. 
From what we've seen so far, we look forward to a great crop of calves from Casy in 2018.